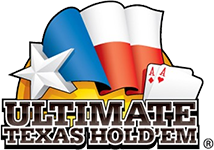 Ultimate Texas Hold'Em features heads up play agains the Player/Dealer and optional trips and progressive side bets. This games gives you several advantage
• The earliest you bet, the more you can bet. Up to four times.
• You don't have to fold until all cards are exposed.
• The Trips bonus pays odds if your final five-card hand is a three-of-a-kind or better.
WITH NEW $1 PROGRESSIVE JACKPOT- PAYS MINIMUM $1000 TO 1.
CHECK CASINO FOR TODAY'S PAYOUTS